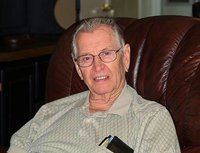 Maurice Westbrook
Maurice Westbrook, age 92, of Longview, passed away, Wednesday, October 30, 2019. Mr. Westbrook was born February 25, 1927, in Clarksville to Sam and Ollie Campbell Westbrook. He served 10 years in the U.S. Navy. Mr. Westbrook was a Seaman 1st class during World War II and he was Honorably Discharged in July, 1947. Maurice was retired from Lone Star Steel after 53 years. He was preceded in death by his parents; brothers, Robert Westbrook and Clyde Westbrook; sisters, Berta Mae Humphrey, Hesta Lee Westbrook, Inez Mitchell and Gladys Thomas and an infant son.
Graveside services are set for 11:00 a.m. Saturday, November 2, 2019 at Fairview Cemetery with Rev. Deannie Lambert officiating. Burial is under the direction of Clarksville Funeral Home.
Mr. Westbrook is survived by his wife, of 60 years, Dorothy Westbrook of Longview; son, Sam Westbrook and wife, Susan of Clarksville; daughter, Marcy Huey and husband, Rick of Kilgore; grandson Matthew Huey of Kilgore; brother, Johnny Westbrook and wife, Ruth of Avery and numerous nieces and nephews.