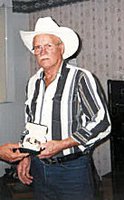 Billy Wayne Gaines
Billy Gaines, age 83, of Bogata, passed away Tuesday, October 15, 2019, at Paris Regional Medical Center. He was born in Clarksville to Claude and Leta Brown Gaines on October 5, 1936. Billy enjoyed walking the Cuthand creek hunting for arrowheads. He knew all the backroads and rural areas of Red River County. Billy loved history, especially Indian artifacts. He loved his family and was proud of each and every one of them. Preceding him in death are his parents; two sons, Terry Gaines and Wesley Gaines and numerous brothers, sisters, aunts, uncles and cousins.
The family will receive friends Friday, October 18, 2019 from 9:00 to 10:00 a.m. at Clarksville Funeral Home.
Graveside services are set for 10:30 a.m. Friday, October 18, 2019, at Bogata Cemetery with Pastor Ed Lee officiating. Burial is under the direction of Clarksville Funeral Home.
Survivors include his wife, Macy Johnitta Gaines; 2 sons, Michael Gaines and Kyla of Moore, Oklahoma and Jody Holmes and wife Becky, of Bogata; daughters, Annette Hicks and husband, Kenneth of Tecumseh , Oklahoma, Billie Ann Gaines of Oklahoma City, Linda Sue Posey and husband, Tommy of Paris, Patsy Ann Ward, Kathy St.Clair and husband Steve of Shawnee, Oklahoma, Keitta Clendennen and husband, Ed of Keller and Callie Guess of Lone Star Community, and numerous, grandchildren, great grandchildren and great-great grandchildren.