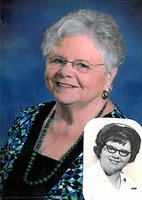 Linda Pearl Stanley
Linda Pearl Stanley, age 76, of Bonham, passed away Sunday, September 01, 2019, at Pecan Point Assisted Living in Sherman.
Graveside services are set for 10:00a.m. Tuesday, September 3, 2019, at Avery Cemetery with Colby Rich and Jered Hudson officiating. Burial is under the direction of Clarksville Funeral Home.
Linda Pearl Stanley was called home to be with her Lord after a lengthy battle with Alzheimer's. She was born to parents Charlie and Agnes Shipp Stanley on October 6,, 1942 in Red River County Texas.
She attended Avery schools until her senior year when she transferred to Clarksville High School. She graduated with a nursing degree (RN) from Texarkana Junior College.
Her nursing career led in many directions including: John Sealy Hospital in Galveston, St. Luke's Hospital in Houston, Baylor Hospital in Dallas, Nursing home administrator in Longview, contract nurse with the United States Army in Stuttgart, Germany, and retirement from the Veteran's Medical Center in Bonham, Texas.
One of her greatest joys was obtaining her pilot's license, just one example of her spirit of adventure. Her love for travel led her to visit the Holy Land, Mexico, Alaska and much of Europe and the United States.
She accepted Jesus Christ as her savior at a young age at the Avery Missionary Baptist Church and lived her life following His leadership. She was a member of Trinity Baptist Church in Bonham.
Preceding her in death were her parents, Charlie and Agnes Stanley; brothers, Raymond, Earl, Carl, Delbert, John, and James; nephews, Charles Stanley and Wesley Metts; sisters, Ann, Polly, Verna Mae and infant sister Helen.
To love and cherish her memory are nephews: Bruce, Johnny Lee, Jimmy Lynn, James Jr., Casey and Richard; her nieces, Edna, Paula, Becky, Holly and Shelly, as well as her life-time friend (sister-in-love) Yvonne Duncan and daughters Donna Rich and Deana Hudson.
A special thank you to Clarksville Nursing staff, Pecan Point Memory Care staff and Hospice Plus for their loving, caring, and compassionate care for Linda.