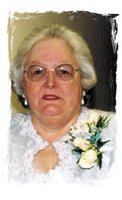 Glenda Totty
Glenda Minter Totty, age 78, of Annona, passed away, Thursday, February 07, 2019. Mrs. Totty was born, December 5, 1940, in the Boxelder Community to Dewey D. and Pauline Kelly Minter. She was a retired Accountant and was of the Baptist faith.
Survivors include her husband of sixty years, Irvin Totty of the home; one son, Michael Totty of Slidell, Louisiana; two daughters, Delinda Johnson and husband, Daniel of Waterford, Connecticut and Donna Allen of Slidell, Louisiana; three grandchildren, Heath Allen, Cody Allen and Daniel Allen.
Funeral services are set for 4:30 p.m., Monday, February 11, 2019, in Lindeman Chapel of Clarksville Funeral Home. Services are under the direction of Clarksville Funeral Home.
The family will receive friends Sunday, February 10, 2019, from 4:00 p.m. until 6:00 p.m. at Clarksville Funeral Home.
Memories and condolences may be added at www.clarksvillefuneralhome.com .